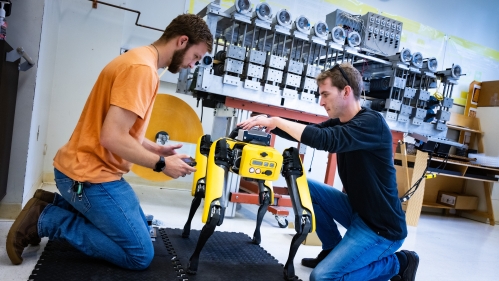 Research Laboratories and Facilities
Laboratories
Industrial and Systems Engineering laboratories provide industry-standard equipment for students to develop skills necessary to excel in industrial and systems engineering professions.
The laboratory is equipped with state-of-the-art mobile robots, a robotic assembly cell and an innovative sheet folding machine (designed and built in-house as part of a research project), and two CNC machine tools. Also home to many functional robots and smart machines built by students for their capstone design projects, the laboratory includes two tennis ball collector robots, a 3D scanner, a gantry robot, a pipeline inspection robot, a storage and retrieval system and many more. 


 

This laboratory supports the new M. Eng. program on Energy Systems and the research by several faculty in the department. It includes battery performance and aging testing equipment, solar tracker, sky scanner and weather station, a fully digitized array of solar panels and energy storage and different software platforms supporting building energy modeling and simulation, grid and microgrid analysis, energy system operation and analytics, DER-CAM, and many other applications. 

A home to modeling and simulation software platforms (for manufacturing, transportation and energy systems) and the state-of-the-art hardware and software on eye-tracking, human ergonomics, EEG devices, mini robots and cobots. The laboratory also includes an in-house built driving simulator primarily used by students for driving data collection and for research.  

Basic machine tools such as turning, milling, drilling, grinding, welding, and measuring machines are available to help the student become familiar with metal-processing operations. The laboratory also includes advanced conversational CNC machine tools primarily used for teaching purposes and performing laboratory experiments in heat treatment, tool life and chip formation assessments. The laboratory is home to an array of 3D printers primarily used by the students for their projects. 

The laboratory includes teaching and research related experimental setups and various 3D printers (fused filament fabrication-based 3D printers, material extrusion bioprinters, transducers, acoustic emission sensors, CCD cameras and thermography sensors for process sensing and monitoring along with computer aided designed equipped PC workstations. The research section includes automated positioning stages, pulsed laser systems (Q-switched and fiber), galvanometer scanners for material processing, laser material fusion, laser micromachining, micro-milling, and surface structuring and texturing.  

The laboratory allows students to have hands-on experience in actual methods for quality control and reliability engineering and accelerated life testing. It is home to a wide array of metrology equipment, such as digital calipers and micrometers, a roundness measurement equipment, surface profilometers and a coordinate measuring machine, optical testing and measuring equipment, an impact testing machine, temperature and humidity chambers, vibration test stands, and failure analysis equipment.
​